Circuitmess recently launched a new product in the series of STEM boxes. Synthia is an electronic musical instrument which comes in a DIY kit for you to build and program. In this article, I will be sharing my experience with Synthia and a review.
Previously I have covered Circuitmess' STEM box educational kits for kids and adults and Nibble – a DIY gaming console. Do check that out if you haven't already. Now without wasting any more time, let's get right into it.
Unboxing Experience of SYNTHIA.
Just like Nibble, Synthia also arrived in a well-packaged box and was delivered in good condition. Inside the box, we get a user manual, warranty card and all the necessary components to assemble the kit. below is a list of all components we get in the box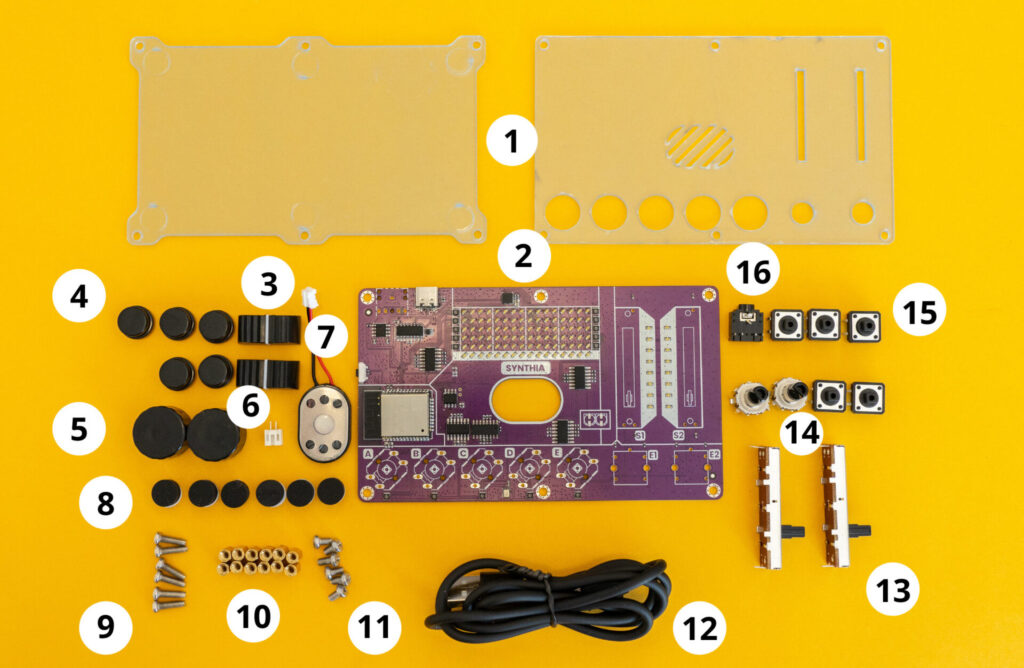 Acrylic casings
Circuit board
Plastic caps for sliders
Button caps
Encoder caps
Connector for the speaker
Speaker
Adhesive rubber feet
Screw roundhead M3x12mm
Brass standoffs
Screw roundhead M3x5mm
USB-C cable
Sliders
Rotary encoders
Pushbuttons
Check if the box contains all these components, in case any part is missing, you can contact Circuitmess.
Assembling SYNTHIA.
After checking all the components, we can assemble the kit with the help of a detailed instructions guide provided by CircuitMess. The process of assembly is very straightforward as you can see in the video I have shared on youtube.
It took me around 40-50 minutes to get it assembled. And the tools required are Soldering Iron and a Philips head screwdriver.
My thoughts.
Synthia is basically an electronic music generator which can be used as a Sampler, Drum machine, Sequencer and Synthesizer. Like all the other products by CircuitMess, this one too has programmability which gives the user endless possibilities. Similar to Nibble, Synthia was fun and easy to assemble.
After assembling and powering the device, we get an audio and visual demonstration of the product. Next, Spencer greets us and takes us through a manual test to check if Synthia works as intended. CircuitMess has also provided a usage guide to understand and use Synthia.
Pros:
It's a great tool for kids to learn about soldering, programming and sound in digital media.
Easy to assemble for kids over the age of 11.
The PCB and the components used are great, loved the tactile buttons.
Circuitmess provides a great Block coding interface called Circuitblocks which can be used to not only create more sounds but also build more advanced projects.
Cons:
The very first thing I noticed was the lack of battery power. Yes, Synthia is a plug-to-power device. I would have liked it if there was a provision to add a battery pack to power it.
Another thing that I personally thought could be improved was the sound. The speaker is small and the sound is not as loud as I would have liked. Though there is a provision for adding external speakers, a louder speaker on board would have been cooler.
That's about it, apart from these two points I enjoyed the product very much. Though I am no musician, I tried to make some sequences, they sounded awful as you might have seen in the video but it was fun nonetheless. I hope I will get to learn more while playing with it.