DOBOT Magician is a lightweight and smart robotic arm for STEM education. It's a 4 axis mini robotic arm for students and hobbyists to learn programming and robotics. In this article let's see what DOBOT is and what it offers. So without any further ad, let's get into it.
What is DOBOT?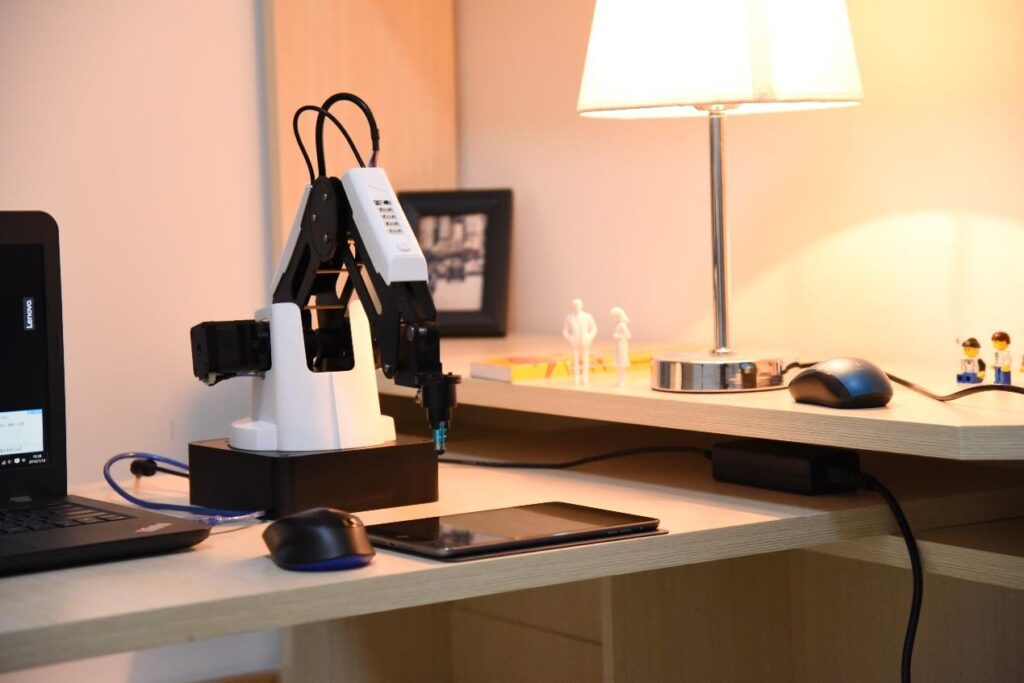 Dobot Magician is a multi-functional smart robotic arm platform designed for high end
STEAM education. It can do multiple tasks like 3D printing, laser engraving, writing & drawing. It has a graphical programming environment and multiple end effectors, with the capability to work with the Arduino platform. Dobot Magician is an ideal platform to learn about robotic arms, hardware development, coding and automation.
Purchase from Amazon US, Amazon UK and Amazon IN.
DOBOT Magician Specification.
Below is a hardware overview of DOBOT Magician,
Device Specifications:
| | |
| --- | --- |
| Number of Axis | 4 |
| Payload | 500g |
| Max. Reach | 320mm |
| Position Repeatability(Control) | 0.2 mm |
| Communication | USB / WIFI / Bluetooth |
| Power Supply | 100V – 240V, 50/60 Hz |
| Power In | 12V / 6.5A DC |
| Consumption | 60W Max |
| Working Temperature | -10°C to 60°C |
Physical Specifications:
| | |
| --- | --- |
| Net Weight | 3.4KG |
| Gross weight ( Standard Version) | 7.2KG |
| Gross weight ( Education Version) | 8.0KG |
| Base Dimension(Footprint) | 158mm × 158mm |
| Materials | Aluminum Alloy 6061, ABS Engineering Plastic |
| Controller | Dobot Integrated Controller |
| Robot Mounting | Desktop |
| Packing Size (L × W × H) | 380mm x 385mm x 480mm |
| Carton Size for Standard Version (L × W × H) | 380mm x 385mm x 480mm |
| Carton Size for Education Version (L × W × H) | 380mm x 385mm x 480mm |
What it does.
DOBOT magician comes with multiple end effectors which helps it perform different tasks. Below is a list of things it can do with these end effectors.
3D printing.
DOBOT Magician is precise enough for 3D printing models with a close finishing, it is comparable with many other 3D printers on the market. With the help of its dual extruders, Dobot can also do dual colour 3D printing. It is also compatible with mainstream open-source 3D printing software like Repetier Host and Pronterface.
Writing & Drawing.
Due to its high precision and stability, Dobot Magician can draw smooth lines. With the help of its software, custom images can be fed to Dobot with will then be converted to code and the arm will draw it on the paper. Similarly, custom text can also be set. It can be a great companion for artists.
Laser Engraving.
Just replacing the pen with a laser end-effector, Dobot Magician can engrave not just lines, it can also sketch images with shades. Its powerful laser head is capable of engraving on harder materials like leather and wood. It's a great tool for making artwork and making custom gifts.
Grapper and Suction endeffectors.
With grabber and sucker accessories, Dobot Magician can move small objects up to 500g. This can be used to make mini-factories for education or it can be used for small scale production.
Other Features of DOBOT Magician.
Along with all the above-mentioned features, Dobot also comes with many other amazing features like Teach & playback, multi-dobot cooperation, and easy visual programming.
Teach & Playback.

A list of movements can be built for Dobot Magician to execute. Dobot Magician memorises movements by simply clicking the button and dragging the arm to perform the task. The recorded moment is then playback in a loop. You can also customize its movements by more accurately setting parameters on its PC
software, where the playback list can be manually edited.
Drag and Drop Programming interface.
This robotic arm used a very simple graphical programming interface called Dobot Blockly.
It is based on Google's open-source platform Google Blockly which lets users write code in a simple and interactive manner.
Just by dragging and dropping the blocks, you can create some amazing projects.
Multi-Dobot Cooperation.
Through a WiFi connection or connecting both machines to an external board, multiple Dobot Magicians can be controlled all at once. With multiple arms working together, a mini factory can be set to fasten up production in a small business.
Final Verdict.
DOBOT Magician is a great learning tool for both students and hobbyists. With its easy to use interface, smooth functioning, and compact design, this robotic arm is the perfect combination for education with fun.
For more information about Magician and another lineup of robotic arms, visit their official page.
To buy your own, you can visit the following links:
Amazon IN, Amazon US, Amazon UK
If you like this article and find it informative, do subscribe for more.
Also, check out myCobot smallest 6-axis collaborative robot.