Recently ITEAD launched a new product the Sonoff iHost Smart Home Hub. This local hub takes charge of your smart devices, seamlessly connecting them through the LAN with the intuitive Web console. But that's not all! iHost goes above and beyond, enabling effortless device and scene control, while also providing the flexibility to customize smart security settings for different scenarios. Plus, you can easily keep track of device and scene logs.
ITEAD has provided us with a review unit for testing. In this article, I'll delve into all the exciting details and share my personal experience with this innovative device. So, without any further delay, let's dive right in!
What is iHost Smart Home Hub?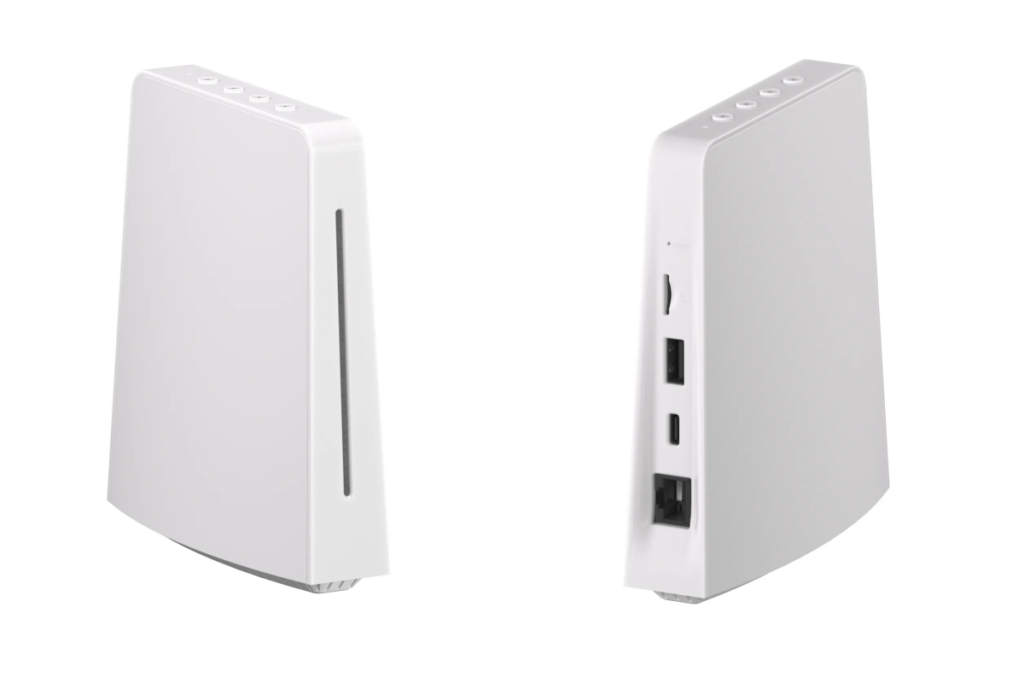 The SONOFF iHost Smart Home Hub revolutionizes the way you control your SONOFF smart switches, lightbulbs, Zigbee sensors, and more by enabling seamless local control without the need for cloud connectivity (such as eWelink). In addition, future software upgrades will expand compatibility to include devices flashed with Tasmota firmware and any device compatible with the Matter IoT protocol.
The gateway itself is built on a Rockchip RV1109 SoC with 2GB RAM or a Rockchip RV1126 with 4GB RAM, ensuring powerful performance. It offers a range of connectivity options including 10/100M Ethernet, WiFi, Bluetooth LE, and Zigbee 3.0. Moreover, the inclusion of a USB 2.0 port allows for even more connectivity possibilities.
What do we get inside the box?
The box includes an Ethernet cable, USB Type-C cable, reset pin, and a helpful Quick Guide to ensure a seamless setup experience.
Physical Overview: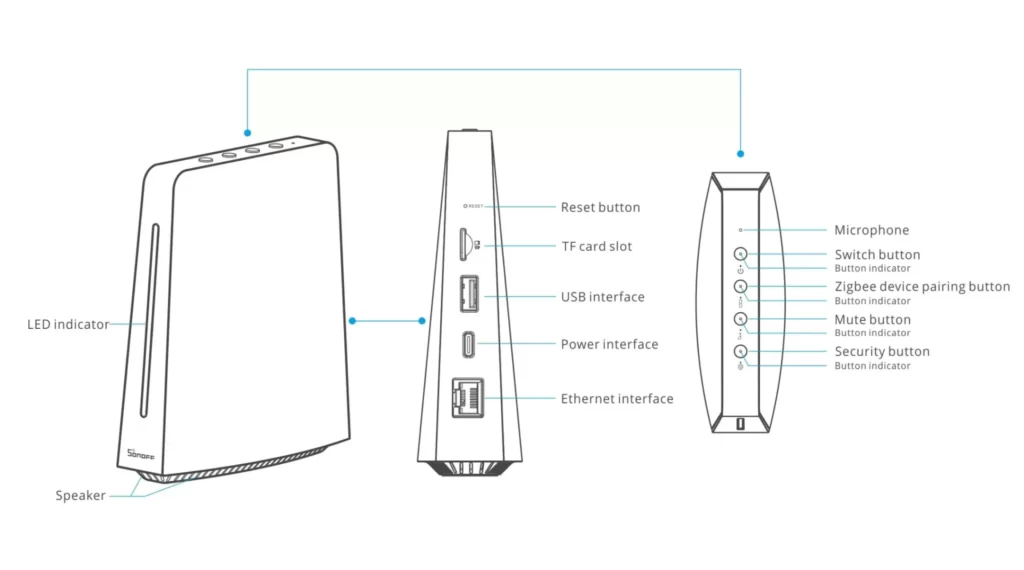 The iHost Smart Home Hub features an elegant and sleek design that resembles a router, making it a stylish addition to any smart home setup. With its minimalistic and aesthetically pleasing appearance, the iHost effortlessly blends into home decor.
At the front of the iHost, you'll notice an RGB LED strip that serves as a visual indicator, adding a touch of ambience while providing useful feedback on the device's status. Positioned on the top of the device, you'll find four buttons, each equipped with LED indicators. These buttons allow for intuitive control and quick access to essential functions like Power On/Off, Security arm/disarm, Sound, and Pairing.
In addition to its sleek design, the iHost also incorporates a microphone and a bottom-facing speaker which is sufficiently loud. Indicating the potential for many advanced features in the future. This opens up exciting possibilities for hands-free control and automation.
Moving to the back of the iHost, you'll find a range of ports that offer versatile connectivity options. These ports include a Reset pinhole for easy troubleshooting, an external TF card slot for expandable storage, a USB 2.0 port for seamless device connections, a Type-C power port for versatile power delivery, and an RJ45 100Mbps Ethernet port for stable and reliable network connectivity.
Technical Specifications:
| | |
| --- | --- |
| SoC | Rockchip RV1109 / Rockchip RV1126 |
| RAM | 2GB / 4GB DDR4 |
| Storage | 8GB eMMC Internal Storage, SD card slot for expansion up to 256GB |
| Connectivity | 100M Ethernet port, 2.4GHz WiFi 4, BLE, Zigbee 3.0 |
| Audio | Microphone & Speaker |
| Power Supply | 5V/2A Type-C (Adaptor not included) |
| Additional Features | RGB LED strip, |
| Dimentions | 120 x 41 x 135mm |
Features:
Sonoff iHost comes packed with many features and has room for more, let's see some below:
The main feature of the iHost is its role as a local hub for SONOFF and other devices. This means that it acts as a central hub that stores data locally, ensuring enhanced privacy and security compared to cloud-based services. With iHost, you can have peace of mind knowing that your data remains secure within your own network environment.
The iHost serves as an active Zigbee hub, enabling seamless connections with any Zigbee device and collecting data from both Sonoff and other compatible devices that support the protocol. Additionally, if desired, the device can be easily connected to the cloud via Ewelink, further expanding its versatility.
iHost offers comprehensive support for multiple protocols, currently including Zigbee and WiFi specifically for SONOFF devices. Excitingly, future updates will enable iHost to support additional protocols such as BLE and Matter, eliminating the need for extra hardware purchases. Furthermore, iHost can be enhanced with additional capabilities through integration with popular platforms like Node-Red and HomeBridge, ensuring seamless compatibility with Apple devices. With its versatile protocol support and potential for expansion, iHost truly encompasses the all-in-one solution for smart home needs.
The iHost Smart Home Hub offers local automation capabilities through its dedicated feature called Smart Scene. This local automation functionality is distinct from the Cloud Smart Scene, ensuring that the databases are completely separated. With a clear commitment to privacy and data security, ITEAD assures that all data, including device information and scenes, is stored locally.
Unlike eWeLink, which relies on cloud services and internet connectivity for device control, the iHost operates independently, even during internet outages. This means that even if the internet is down, the iHost will continue to function seamlessly, allowing you to maintain control over your devices and scenes without any disruptions. With its emphasis on local control and data storage, the iHost provides a reliable and secure smart home experience.
How to get started?

Setting up the iHost Smart Home Hub differs slightly from other Sonoff devices due to its local functionality. To get your iHost up and running, follow the simple steps outlined below:
First use a 5V/2A power adaptor to power the iHost through USB Type-C port. Then connect the Ethernet cable to the RJ45 port. Once plugged in, you'll hear a sound and notice the blue LED indicator remaining lit, indicating that the iHost is powered on and has successfully established a network connection.
Open a new tab in browser to visit http://ihost.local/ and create an account. If the page does not load, Make sure the iHost and the PC are on the same LAN.
After successfully creating an account, login to it and you will see a blank page with some menu options on the left. Here goto settings and click on "Link Now". Know that it is not necessary for iHost to be linked with ewelink but inorder to upgrade the firmware it is important that the device is connected to the internet. Once the firmware is updated, you can unlink the app if you wish.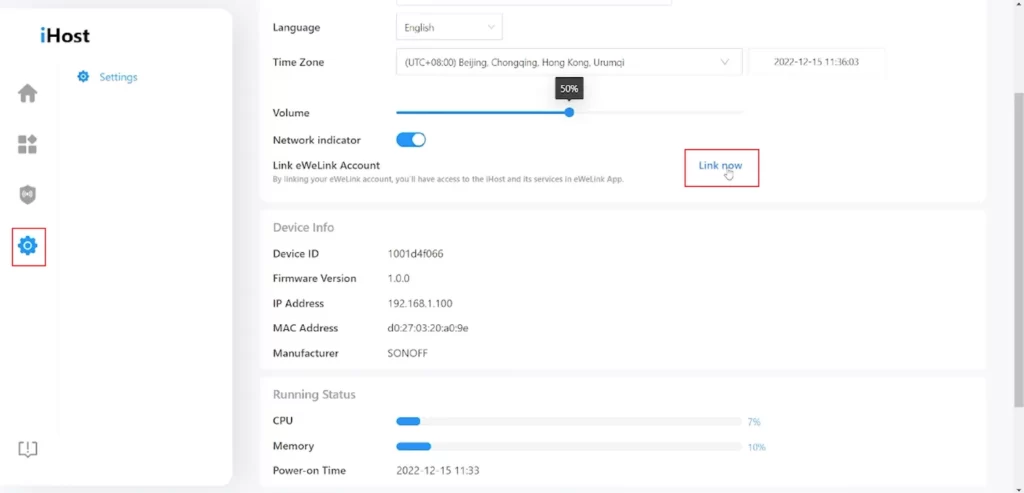 Now open the ewelink app and select iHost from the list of devices. Then go to the device settings and click on upgrade device to install the latest firmware. You will notice the LED strip will start flashing white indicating the upgrading process. Make sure you do not press any buttons or turn off the iHost during this process.
After updating the iHost, now all you have to do is setup your ZigBee devices and start monitoring. There are many other things you can do using the iHost like set up smart scenes, security or use eWeLink cast. Or you can use it with add-ons like Matter, Node-red and Homebridge.
Refer to the official guide for iHost for more detailed instructions.
My thoughts about Sonoff iHost.
The iHost acts as a significant starting point for various possibilities. Initially, I thought it was just a local hub for all Sonoff devices. However, the Sonoff iHost surpasses my expectations by not only providing a platform for Open Source repositories like Node-Red, HomeBridge, Matter and others, but also extending compatibility beyond Sonoff devices to any that adhere to Zigbee standards.
While it may not offer the same level of flexibility as Home Assistant, the iHost offers a more user-friendly experience, Through it's easy to use GUI with no need for complicated commands. I am eagerly waiting to see what else the iHost can bring to the table in near future. With that been said, We want to hear from you! Share your thoughts on what additional features or functionalities you believe the iHost should offer.
If you're intrigued by the iHost and would like to have one for yourself, simply visit the official ITEAD website. Don't forget to use the special code "ASTIRTECHSONOFF" during checkout to avail yourself of an exclusive 10% discount. Take advantage of this offer and experience the benefits of the iHost Smart Home Hub at a discounted price.