In recent years, the field of robotics has witnessed tremendous advancements, pushing the boundaries of what artificial intelligence (AI) and edge computing can achieve. Emerging from this intersection is the remarkable XGO 2, an innovative desktop AI robot dog equipped with a wide array of features and functionalities.
In this article, we will delve deeper into the capabilities and potential applications of the XGO 2. Exploring the various ways in which this innovative robot dog can contribute to AI development, research, and education. Let us embark on an exciting journey through the world of XGO 2 and discover the endless possibilities it offers.
Introducing XGO 2.

Earlier this year, Luwu Intelligent Technology, a spinoff company from Harbin Institute of Technology, successfully completed the Kickstarter campaign for their "desktop-size" quadruped robot XGO 2. The newest iteration of the highly popular XGO robot dog is the latest addition to the remarkable lineup we previously covered in our article titled "Top 5 Robot Dogs." Building upon the success of its predecessor, the XGO 2 brings forth even more advanced features and functionalities, cementing its position as a frontrunner in the world of robotic companions.
The XGO 2 incorporates integrated AI modules that enable it to perform visual, voice, and gesture recognition, allowing the robot dog to actively "hear, recognize, and respond to users, akin to a real dog." It is equipped with six IMUs (inertial measurement units) and possesses 12 degrees of freedom, granting it the ability to freely Trot, Walk, or engage in a "High Walk" in any direction while maintaining stability, even on uneven or moving surfaces.
Its head combines several functionalities, including a camera, microphone, speaker, LCD screen, and pushbutton controls. The LCD screen and pushbutton controls offer basic programming capabilities and allow users to switch between operational modes effortlessly. Additionally, the screen serves as a display of an animated face, giving the robot dog a touch of personality.
It features a gripper offering a versatile range of gripping options. With three degrees of freedom, the robot can effectively perform tasks such as grasping, lifting, carrying, placing, and dragging various objects. Essentially, it can manipulate and interact with objects it comes into contact with, showcasing its adaptability and dexterity.
It offers two distinct models: the XGO 2 Lite and the XGO 2 Mini. These models showcase some significant differences, which we will explore in detail in the next section.
The Key differences between XGO 2 Lite and Mini.
| | XGO 2 Lite | XGO 2 Mini |
| --- | --- | --- |
| Host | Raspberry Pi CM4 | Raspberry Pi CM4 |
| Program | Blocky, Python, ROS | Blocky, Python, ROS |
| Structure | 1mm Aluminium Alloy | 1.5mm Aluminium Alloy |
| Dimentions | 250-145-170mm | 270-150-180mm |
| Weight | 610g | 900g |
| No. of Servos | 6V 2.3kg serial bus servo (15) | 6V 4.5kg serial bus servo (15) |
| Legs & Feet | ABS | Silicone & ABS |
| Client | ESP32 | ESP32 |
| Battery | 18650 2S 2500mah | 18650 2S 3500mah |
| Charger | 8.4V 1A | 8.4V 1A |
| Run Time | 2h | 1h |
The XGO 2 Lite and the XGO 2 Mini exhibit notable distinctions in terms of size, structure, and run time. The XGO 2 Lite, which is the more budget-friendly option, offers an estimated run time of 1 hour. In contrast, the XGO 2 Mini boasts twice the run time compared to its Lite counterpart.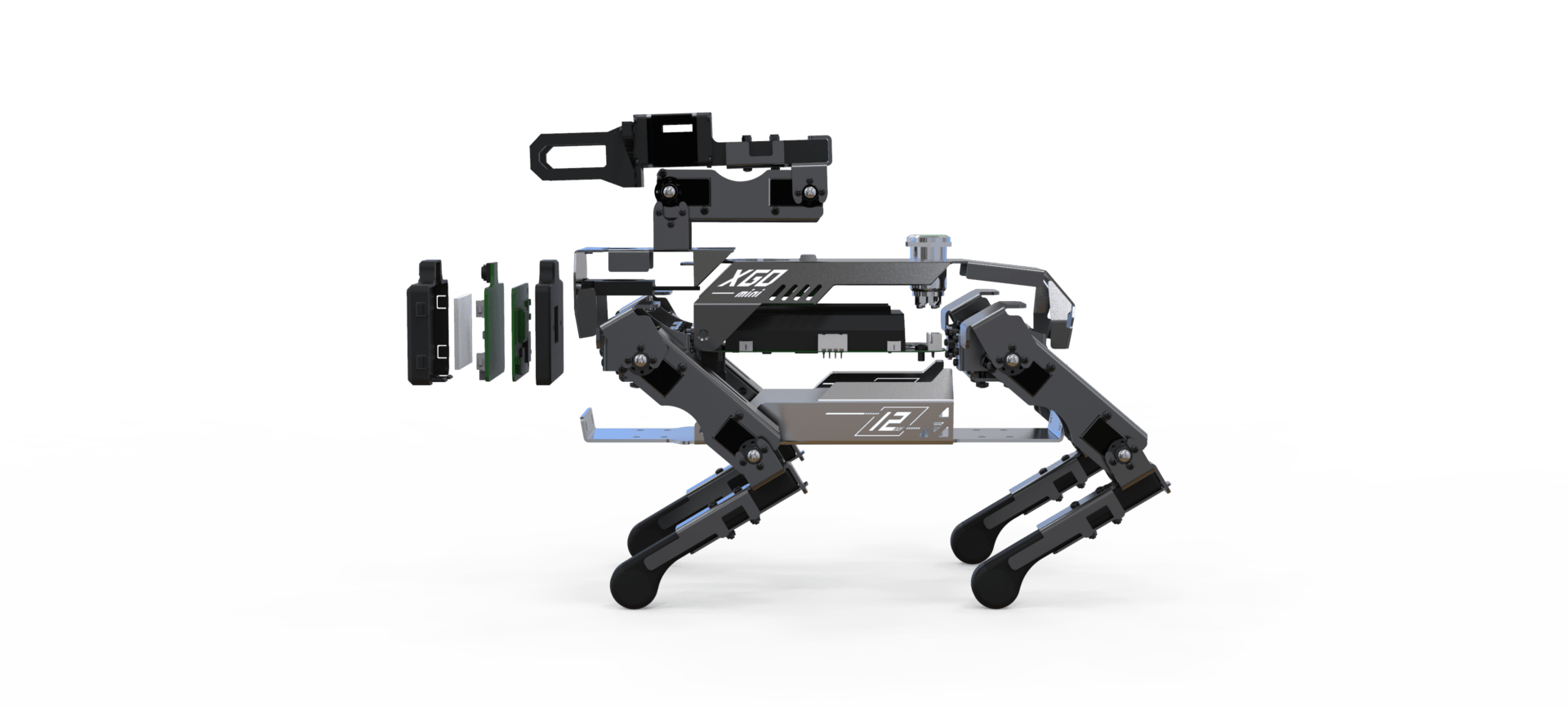 Furthermore, in regard to size and weight, the Lite variant is smaller and lighter, designed for enhanced portability. It is equipped with servos that provide a torque of 2.3kg, suitable for its compact and lightweight construction. On the other hand, the XGO 2 Mini presents a larger form factor and a heavier body, necessitating servos with a higher torque of 4.5kg to ensure optimal performance.
These distinct differences in size, structure, and run time between the XGO 2 Lite and XGO 2 Mini allow users to select the model that best aligns with their specific needs and preferences. Whether prioritizing affordability and portability or requiring longer run time and a more substantial build, both variants cater to a diverse range of preferences and use cases.
For more detailed information kindly refer to the official Wiki page.
Pricing and Availability.
Available for purchase through the following channels:
Currently, the Lite model is unavailable so you can check out the MicroBit version here.
Final Thoughts.
In conclusion, the XGO 2 series of robot dogs offers an exciting range of features and options for enthusiasts and users seeking AI companions. The XGO 2 Lite and XGO 2 Mini showcase key differences in terms of size, structure, and run time, allowing individuals to choose the model that best suits their requirements. Whether opting for the more affordable and compact Lite version or the larger, longer-lasting Mini variant, both models provide an engaging and interactive experience. With their advanced capabilities, including versatile movement, gripper functionality, and integrated AI modules, these robot dogs are poised to revolutionize the way we interact with robotic companions. As technology continues to advance, these intelligent and adaptable companions will undoubtedly play a significant role in our daily lives, offering companionship, assistance, and entertainment in the realm of AI robotics.