Previously I unboxed and assembled Pluto 1.2 Programmable Nano Drone. It was a great experience and I got to learn a lot about Drones which I had no knowledge of. To control the drone we use a smartphone app which is great but like most of us, I prefer an external controller.
In this article, let us see how to use an external gamepad controller to control Pluto 1.2. This tutorial will cover the setup and testing of an external gamepad with our nano drone.
Requirements.
To achieve our goal, we need the following components.
Here I have used Logitech F710 Wireless Gamepad, but you can use any as long as it is Xbox compatible. For USB OTG, I have used type-c for my smartphone has a type-c port, you just need to get the one compatible with your smartphone.
NOTE:- Your smartphone must have USB OTG support
After gathering all the necessary components, we can move on to the setup part.
Setup.
First things first, we need to turn on the Pluto drone and connect it to our smartphone. You can refer to the previous tutorial on how to do that. Once the drone is connected, follow the steps given below. Make connect the USB receiver of the Controller to the USB-OTG adaptor.
Connect the OTG to the smartphone and wait for a few seconds until you get a pop-up.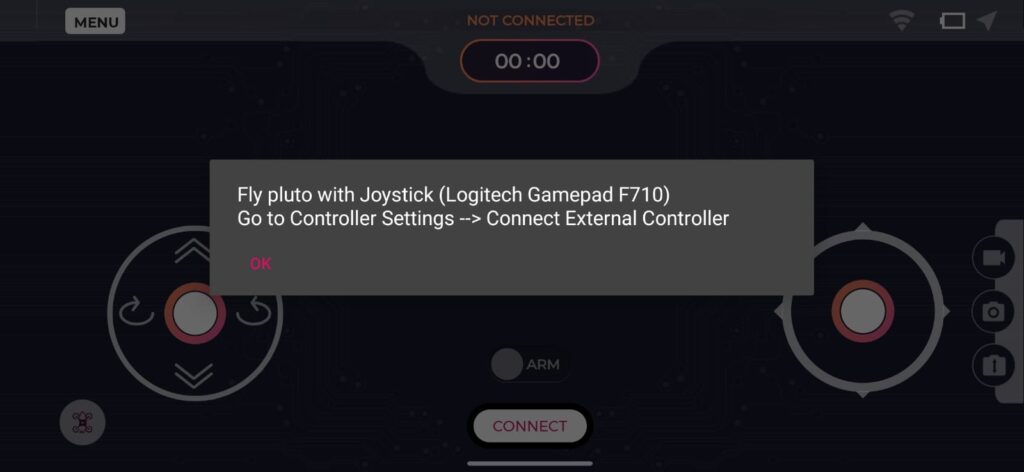 Now just click ok and you should be ready to use the controller.
Before we can start using our gamepad as a remote for Pluto, here's what we need to keep in mind the controller and smartphone are in close proximity as we still need the WiFi connections to control the drone.
Next all we have to do is, place Pluto on a plane surface and Arm it. And we are ready to take off…
Video Tutorial.
Conclusion.
So now we can control our Pluto using an external controller. Personally, I love using a controller rather than a screen. It just feels good and gives good control. Now, this method should work with both Pluto 1.2 and Pluto X similarly. But if you face any issues, feel free to leave a comment here and I will try my best to answer it as fast as I can.
Hope you found this article informative. If you liked this tutorial, subscribe for more.