Introducing the latest addition to the SonOff family – the SNZB-02D, a Temperature and Humidity sensor equipped with an LCD display. This sleek and stylish device offers a multitude of features that are sure to impress any smart home enthusiast. But don't just take my word for it, let me dive into the details and provide you with a comprehensive review of this innovative product. So sit back, relax, and let's explore the SNZB-02D and all that it has to offer.
What is SNZB-02D?
The SonOff SNZB-02D is a sleek and compact wireless temperature and humidity sensor that comes packed with some impressive features. Inside the box, you'll find the device itself, along with a user manual to help you get started. The sensor has a minimalistic design with a matte white finish, and it's small enough to be placed discreetly in any room.
The device comes with a high-accuracy sensor that constantly monitors the temperature and humidity levels of the room. The monochromatic LCD screen displays the current temperature and humidity levels, so you can easily keep track of the conditions in your home. With its low power consumption, the SNZB-02D can run for up to two years on a single battery, making it an efficient and cost-effective solution for smart home automation.
Overall, it is an excellent addition to any smart home setup, offering an easy way to monitor the temperature and humidity levels in your home. Its compact design, long battery life, and high-accuracy sensor make it a smart investment for anyone looking to optimize their living space.
let's see what we get in the box and a physical overview.
Overview.
The SNZB-02D module comes neatly packaged in an anti-static bag, ensuring that it stays free from any electrostatic discharge. Along with the module, you will also find a comprehensive user manual that contains all the information you need to get started with the device. With the help of this manual, you can easily set up the device and start using it to monitor the temperature and humidity levels of your room.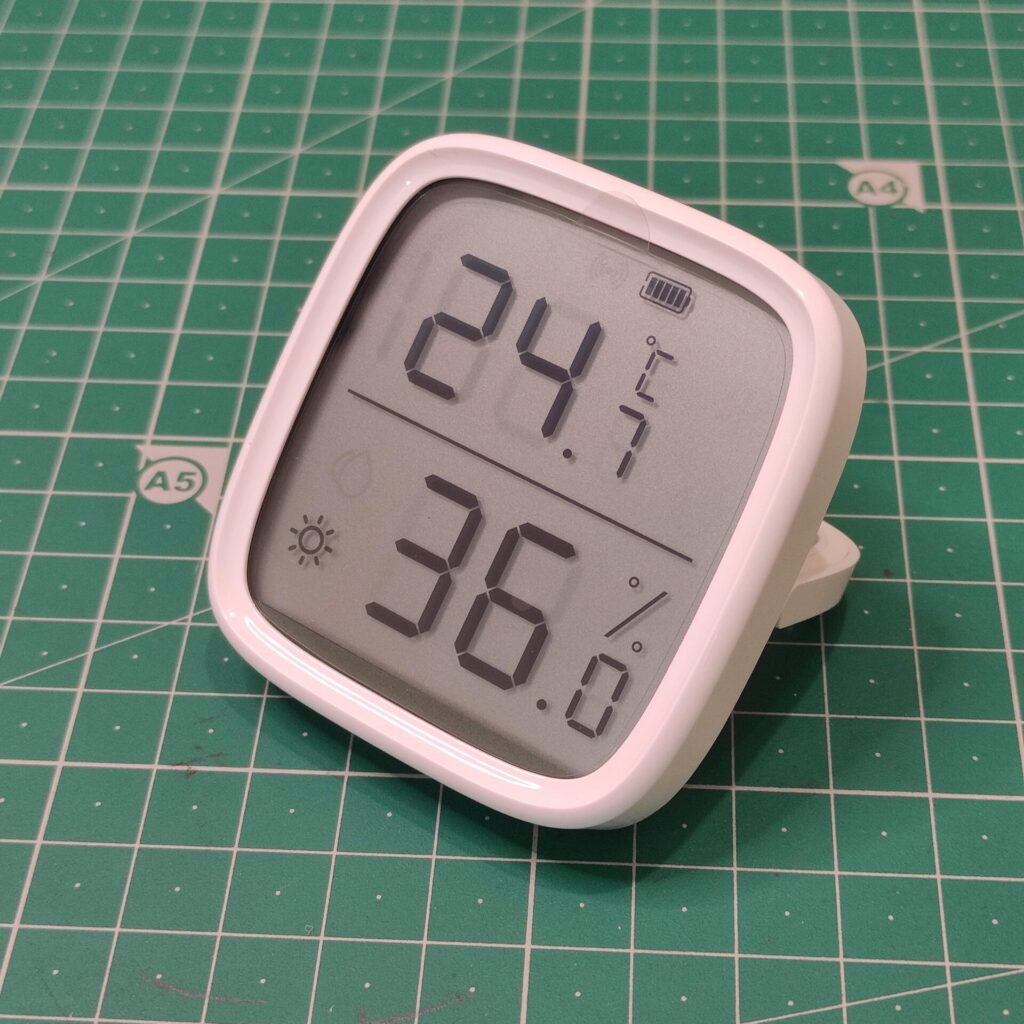 Specifications of SNZB-02D:
The SNZB-02D sensor is designed with Zigbee 3.0 wireless technology, which provides seamless compatibility with various Zigbee gateways and hubs such as Sonoff's Zigbee bridge, NSPanel Pro, and the latest Alexa Echo with built-in Zigbee support. With a range of 120m or approximately 400ft in line of sight, the device offers a long-distance signal transmission. The temperature reading can be easily toggled between Celcius and Fahrenheit, providing flexibility for users.
Applications
Now let's see the use case and applications of the device.
Room temperature and humidity monitoring
Share the temperature with the smart hub periodically
The data can be logged and used to create smart scenes for example: Turning on/off the fan/ac at a certain temperature.
Get alerts about room conditions.
Now, let's see the pros and cons of the SNZB-02D
Pros:
The SNZB-02D sensor is packaged in a compact housing that offers three different mounting modes for versatile placement options. These include a stand, a holder with adhesive, and a magnetic back that can easily attach to any magnetic surface, such as a fridge.
The device features a 2.5-inch display that clearly shows the temperature and humidity in large digits, making it easy to read and monitor. Additionally, the display also shows the battery level of the device, ensuring that you know when it needs to be recharged.
The SNZB-02D Sensor can be easily integrated with any Zigbee 3.0 host, making it a versatile and compatible smart home device. Once connected to a Zigbee hub, the temperature and humidity readings can be used to create a smart scene, such as turning on or off the fan or air conditioning system at a specific temperature. This allows for a seamless and efficient home automation experience.
The sensor boasts highly accurate readings and provides the option to display temperature in either Celsius or Fahrenheit units.
Thanks to its low-power mode, the SNZB-02D offers an extended battery life, allowing you to monitor your home's temperature and humidity levels without worrying about frequent battery replacements. This feature provides a convenient and reliable solution for maintaining a comfortable living environment.
Cons:
While the SNZB-02D performs its intended functions of displaying accurate temperature and humidity readings and periodically sending data, there are a few minor drawbacks that I encountered which are worth mentioning as cons. Overall, the list of cons is relatively short.
Connecting to iHost was a bit of a challenge as the module did not appear in the list of ZigBee devices until I performed a hard reset
In my experience, one issue with the device is the placement of the sensor on the top of the module without any mesh protection. As a result, dust accumulates on the sensor, making it difficult to clean. Personally, I would have preferred the sensor to be located at the bottom of the module to prevent this issue.
Final Thoughts.
In my two-week experience with the SonOff SNZB-02D Temperature and Humidity sensor, I have found it to be a reliable and accurate device. Although I encountered some connectivity issues with the SonOff iHost during the initial setup, it has not been a problem since. The device has a well-built housing and can be mounted in three different ways, but I would prefer if the actual sensor was located at the bottom to prevent dust buildup.
The battery life of the device has been excellent, and it is expected to last for up to two years, as claimed by the manufacturer. I am planning to test the humidity-measuring capabilities of the sensor further as I intend to use it in my DIY Filament drier.
Overall, I hope this review provides a good understanding of the SNZB-02D and its potential applications. If you found this article helpful, please subscribe to stay updated on future posts.
Click here if you are interested in purchasing SNZB-02D.